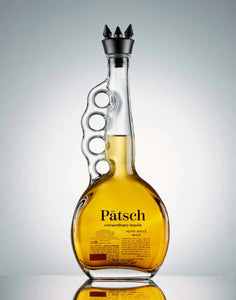 Step into the world of luxury with Patsch Extraordinary Extra Anejo Tequila, a spirit that transcends expectations and redefines the art of tequila making. Crafted to perfection, this extraordinary anejo tequila represents the pinnacle of Mexican distillation traditions. Patsch Tequila is renowned for its commitment to excellence, and the Extraordinary Extra Anejo is the crown jewel of their collection.

From the moment you uncork the bottle, you'll be greeted by a symphony of aromas that promise an exceptional tasting experience. Rich notes of toasted oak, vanilla, and caramel intermingle, creating a sensory journey that hints at the indulgence to come. Each sip is a revelation, a testament to the years of patient aging that this tequila undergoes.

The taste is a revelation, an intricate dance of flavors that unfolds on your palate. A harmonious blend of sweet agave, warm spices, and dark chocolate entice your taste buds, leading to a finish that's smooth and satisfying. Patsch Extraordinary Extra Anejo Tequila is not just a drink; it's a celebration of craftsmanship and the dedication of the artisans who create it.

The bottle itself is a work of art, a masterpiece that exudes elegance and sophistication. Whether you choose to enjoy this tequila on its own, savoring every sip, or as the foundation for a truly extraordinary cocktail, Patsch Tequila never disappoints. It's a symbol of luxury and a tribute to the tradition of tequila making in Mexico.

At Folsom Wine & Spirits, we're proud to offer the Patsch Extraordinary Extra Anejo Tequila to discerning connoisseurs like you. This exceptional spirit is an invitation to elevate your taste and indulge in the extraordinary. Experience the magic of Patsch Tequila and discover why it's more than just a tequila; it's a testament to the dedication and passion of those who created it.