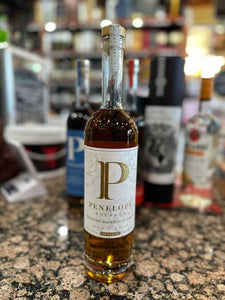 Introducing Penelope Four Grain Straight Bourbon Whiskey – a harmonious fusion of tradition and innovation that sets a new standard for American whiskey. Crafted with utmost precision and passion, Penelope Four Grain is the embodiment of our relentless pursuit of excellence in the art of distillation. In your glass, Penelope Four Grain shines with a rich, amber hue, reminiscent of a captivating sunset over the Kentucky hills.

The aroma is a delightful marriage of sweet caramel, toasted oak, and a hint of vanilla, giving you a warm and inviting invitation to explore further.

This exquisite bourbon unfolds on your palate with a symphony of flavors. Notes of butterscotch, toffee, and ripe orchard fruits dance harmoniously with hints of baking spices, creating a luxurious and well-balanced taste experience.

The finish is long and satisfying, with the sweet and spicy flavors gradually fading to leave you with a gentle warmth that lingers on the tongue, making each sip an unforgettable journey.

Penelope Four Grain is a carefully crafted blend of corn, rye, wheat, and malted barley, each contributing its unique character to the final product. This meticulous selection of grains ensures a complex and layered bourbon that showcases the best of what American whiskey can offer.

Our bourbon is patiently aged in new, charred oak barrels, allowing it to develop depth and character over time. The resulting spirit is a testament to the power of time and the dedication of our distillers.

Penelope Four Grain Straight Bourbon Whiskey is a versatile spirit that can be enjoyed neat, on the rocks, or as the foundation for your favorite cocktails. Whether you're savoring it with friends around a campfire or toasting to life's milestones, Penelope Four Grain is the perfect companion for every moment.

Penelope Four Grain Straight Bourbon Whiskey is a labor of love, born from generations of distillation expertise and a passion for producing exceptional whiskey. Our commitment to quality shines through in every bottle, making Penelope a standout choice for connoisseurs and newcomers alike.

Elevate your whiskey experience with Penelope Four Grain Straight Bourbon Whiskey – a true testament to the artistry of American distillation. Discover the rich tapestry of flavors and embark on a journey through tradition and innovation in every sip. Raise your glass to Penelope, and savor the moment.