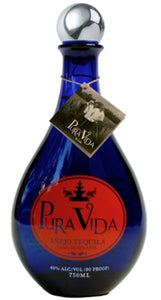 Introducing Pura Vida Anejo Tequila 750ml, a luxurious expression that embodies the essence of time, craftsmanship, and the vibrant flavors of Mexico. This exquisite tequila is a testament to the artistry and dedication that goes into creating a truly exceptional spirit.
Pura Vida Anejo Tequila is crafted using only the finest 100% Blue Weber agave, carefully cultivated and handpicked from the highlands of Jalisco. The agave hearts are slowly cooked to perfection, extracting the sweet nectar that forms the foundation of this remarkable tequila.
Aged for a minimum of one year in oak barrels, Pura Vida Anejo Tequila undergoes a transformative journey that enhances its complexity and character. During this maturation process, the tequila develops a rich amber hue, reflecting the depth of its flavors.
With every sip, Pura Vida Anejo Tequila reveals a harmonious blend of flavors. Notes of caramel, vanilla, and toasted oak intertwine, creating a velvety and smooth profile that dances on the palate. Subtle hints of chocolate and spice add layers of depth, inviting you to savor and explore each nuanced sip.
The 750ml bottle is a work of art, exuding elegance and sophistication. Its sleek design, adorned with intricate details and the Pura Vida emblem, captures the essence of the tequila within.
Whether enjoyed neat or as the foundation of a premium cocktail, Pura Vida Anejo Tequila is an experience to be savored. It embodies the warmth and vibrancy of Mexico, encapsulating the spirit of celebration and the joy of life. Indulge in the timeless pleasure of Pura Vida Anejo Tequila and let it transport you to a world of refined indulgence and memorable moments.