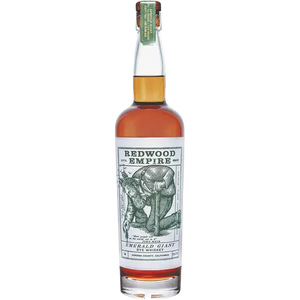 Redwood Empire Emerald Giant Rye Whiskey is a premium, small-batch whiskey that offers a complex and robust flavor profile. This American whiskey is crafted using a unique blend of rye grains, which are aged for a minimum of 4 years in charred oak barrels.

With a deep amber color and a smooth texture, this whiskey boasts a rich aroma of vanilla, toasted oak, and caramel. On the palate, it delivers a bold and spicy flavor with notes of black pepper, cinnamon, and dried fruit. The finish is long and warming, leaving a pleasant aftertaste of sweet vanilla and oak.

Redwood Empire Emerald Giant Rye Whiskey is perfect for sipping neat or over ice, and also pairs well with cocktails that feature rye whiskey as a base spirit. It is a great choice for whiskey enthusiasts looking for a high-quality, artisanal product that is both flavorful and unique.