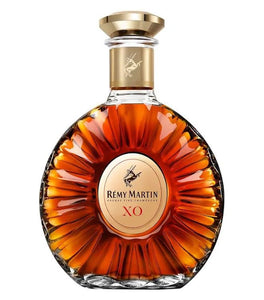 Indulge in the opulence of Remy Martin XO Excellence, a Special Fine Champagne Cognac that embodies the epitome of luxury. This exquisite expression represents the art of blending eaux-de-vie from the finest vineyards in the heart of the Cognac region.

The Remy Martin XO Excellence exudes elegance from the moment it graces your glass. Its rich amber hue hints at the treasures that lie within, a testament to years of meticulous aging in oak casks. With every sip, you embark on a journey through the terroirs of Grande Champagne and Petite Champagne, the two most prestigious crus in Cognac.

The aroma is a tantalizing symphony of dried fruits, vanilla, and subtle oak, inviting you to explore further. Upon tasting, you're greeted by a harmonious balance of flavors. Notes of ripe plum, fig, and toffee dance gracefully on your palate, followed by a subtle hint of exotic spices.

What sets Remy Martin XO Excellence apart is its exceptional aging process. The youngest eaux-de-vie in this blend are a ripe 10 years old, but many are much older. This prolonged aging imbues the Cognac with a remarkable complexity and depth that few can match.

The finish is the grand finale, a long and luxurious farewell that leaves you with the memory of velvety caramel and a gentle warmth. This is a Cognac that lingers in your thoughts, inviting you to savor every moment.

Whether you're a connoisseur of fine spirits or seeking an extraordinary gift for a special occasion, Remy Martin XO Excellence is a choice that never disappoints. It's a symbol of prestige, craftsmanship, and the dedication of a Maison that has been crafting Cognac for centuries.

At Folsom Wine & Spirits, we're honored to offer you the Remy Martin XO Excellence-Special Fine Champagne Cognac. Elevate your collection and your taste for the exceptional. Secure your bottle today and experience the pinnacle of Cognac excellence.