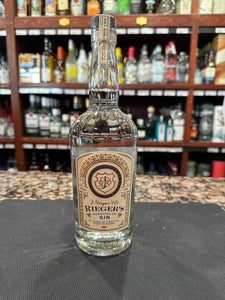 Elevate your cocktail experience with Rieger's Midwestern Dry Gin, a testament to craftsmanship and innovation. This exceptional gin stands as a symbol of the resurgence of craft distillation in the heart of America, paying homage to the region's history and the art of producing fine spirits. Rieger's Midwestern Dry Gin is more than just a gin; it's a journey through time, a revival of traditions, and a celebration of the flavors of the Midwest.

Distilled with precision and an unwavering commitment to quality, this gin begins its journey with the selection of the finest botanicals. The carefully chosen juniper berries, citrus, and spices create a harmonious blend of flavors that define this exceptional spirit. The result is a gin that marries tradition and innovation, showcasing the timeless beauty of classic botanicals with a contemporary twist.

When you pour a glass of Rieger's Midwestern Dry Gin, its crystal-clear clarity is an invitation to explore the depth of its character. The aroma is a delightful medley of juniper and citrus, accompanied by subtle hints of spice, promising a tasting experience that's as captivating as it is enticing.

On the palate, this gin unfolds a beautifully balanced profile. The taste is crisp and invigorating, with the zesty freshness of citrus, the warmth of juniper, and a delightful interplay of spices. It offers a clean and refreshing sensation that's perfect for crafting your favorite cocktails or sipping straight for those who appreciate gin's timeless charm.

The finish is gratifyingly smooth and lingering, leaving you with the memory of a well-crafted gin that's meant to be savored. Rieger's Midwestern Dry Gin is not just a spirit; it's a tribute to the art of distillation, a symbol of innovation, and a toast to the Midwest's rich traditions and flavors. At Folsom Wine & Spirits, we are proud to offer this exceptional gin to our valued customers, who seek nothing but the best. Secure your bottle today and elevate your spirits collection with the timeless elegance of Rieger's Midwestern Dry Gin, one sip at a time.