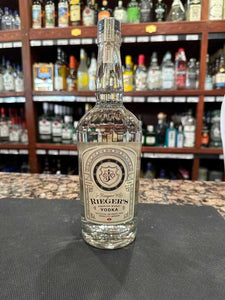 Introducing Rieger's Premium Wheat Vodka – the embodiment of sophistication, craft, and unparalleled quality. This exceptional spirit is a testimony to the dedication and artistry that have shaped the world of premium vodka. Distilled with precision and finesse, Rieger's Premium Wheat Vodka is a true masterpiece that has earned its place among the finest spirits in the world.

Crafted with the utmost care and attention, this wheat vodka begins its journey with the selection of the finest grains. The wheat used in this distillation process is carefully chosen for its quality, and it forms the very foundation of the vodka's extraordinary flavor. The result is a remarkably smooth and clean spirit, the hallmark of a meticulously crafted vodka.

When you pour a glass of Rieger's Premium Wheat Vodka, you'll immediately notice its crystal-clear clarity, a visual testament to its purity. The aroma is delicate, with subtle hints of sweet grain and a touch of citrus, promising a tasting experience that's as refined as it is inviting.

On the palate, this vodka unveils a beautifully balanced profile. The taste is crisp and smooth, with a subtle sweetness that comes from the carefully selected wheat. It offers a clean, refreshing sensation, making it the perfect base for your favorite cocktails or a delightful sip on its own.

The finish is gratifyingly clean and smooth, with no lingering burn, just the memory of a well-crafted vodka that leaves a lasting impression. Rieger's Premium Wheat Vodka is not just a spirit; it's a tribute to the art of distillation, a symbol of elegance and quality. At Folsom Wine & Spirits, we are proud to offer this exceptional vodka to our valued customers, who demand nothing but the best. Secure your bottle today and elevate your spirits collection with the timeless elegance of Rieger's Premium Wheat Vodka, one pour at a time.