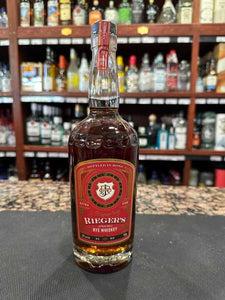 Indulge in the finest American tradition with Rieger's Straight Rye Whiskey, a spirit that pays homage to the rich history of rye whiskey production in the heartland of the United States. This exceptional whiskey stands as a testament to the enduring legacy of the Midwest's distillation heritage, blending a deep-rooted appreciation for tradition with a modern touch of sophistication. Rieger's Straight Rye Whiskey is not just a whiskey; it's a journey through time, a revival of traditions, and a celebration of the flavors of the heartland.

Crafted with precision and dedication, Rieger's Straight Rye Whiskey begins its journey with the selection of the finest grains. The rye used in this distillation process is carefully chosen for its quality and character, forming the foundation of the whiskey's extraordinary flavor. The result is a robust and richly flavored whiskey that beautifully encapsulates the essence of American rye tradition.

When you pour a glass of Rieger's Straight Rye Whiskey, its warm amber hue is an invitation to savor the depth of its character. The aroma is an alluring blend of toasted oak, vanilla, and a touch of spice, promising a tasting experience that's as rich as it is inviting.

On the palate, this whiskey unfolds a beautifully balanced profile. The taste is bold and sophisticated, with the warmth of toasted oak, the sweetness of vanilla, and a delightful interplay of spices. It offers a complex, layered sensation that's perfect for sipping neat or crafting your favorite classic cocktails.

The finish is gratifyingly long and satisfying, leaving you with the memory of a well-crafted whiskey that's meant to be savored. Rieger's Straight Rye Whiskey is more than just a spirit; it's a tribute to the art of distillation, a symbol of craftsmanship, and a toast to the Midwest's rich whiskey-making traditions. At Folsom Wine & Spirits, we are honored to offer this exceptional whiskey to our valued customers, who demand nothing but the best. Secure your bottle today and elevate your spirits collection with the timeless elegance of Rieger's Straight Rye Whiskey, one sip at a time.