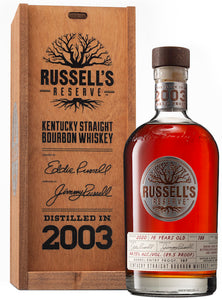 Wild Turkey Distillery has introduced Russell's Reserve 2003 Kentucky straight bourbon whiskey.
As with past vintages releases in this line, Russell's Reserve 2003 was selected by Master Distiller Eddie Russell. This whiskey is a one-off, never to be repeated.
Aged for a minimum of 16 years inside the distillery's Tyrone warehouses, this expression marks the last of Russell's Reserve 107-barrel-entry-proof whiskey. The result is a whiskey reminiscent of Wild Turkey releases from the mid-1980s to early 1990s, the company says, with sweet baking spices, stone fruits and butterscotch flavors.