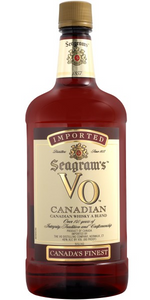 Step into the world of timeless Canadian whisky with Seagram V.O. A name synonymous with quality and heritage, Seagram's V.O. Canadian Whisky is an embodiment of the tradition and craftsmanship that has defined the Canadian whisky landscape for generations. If you're seeking a classic, smooth, and versatile whisky that never goes out of style, Seagram V.O. is your perfect choice.

Seagram V.O. stands for "Very Own," a reference to the tradition of Joseph E. Seagram, the company's founder, who created a special blend of whisky for his family and friends. Over the years, this private blend became known as V.O., and it embodies a commitment to excellence that remains unchanged to this day.

As you pour a glass of Seagram V.O., you'll be welcomed by its inviting golden amber hue, a visual testament to the whisky's rich heritage. The aroma is a harmonious blend of sweet caramel, warm vanilla, and a subtle touch of oak, promising a tasting experience that's as familiar as it is comforting.

On the palate, this Canadian whisky unveils a beautifully balanced profile. The taste is smooth and sophisticated, with notes of butterscotch, dried fruit, and a gentle spiciness. Hints of toffee and a warm, oaky finish add depth and character to every sip. It's a whisky that encourages you to savor each nuance, appreciating the craftsmanship that goes into every bottle.

The finish is gratifyingly long and warming, leaving you with the memory of a well-crafted whisky that's meant to be savored. Seagram V.O. Canadian Whisky is more than just a spirit; it's a tribute to tradition, a symbol of quality, and a toast to the enduring legacy of Canadian whisky production.

Whether you're sipping it neat, on the rocks, or using it as the base for your favorite cocktails, Seagram V.O. is the embodiment of a classic Canadian whisky that continues to stand the test of time. At Folsom Wine & Spirits, we are proud to offer this exceptional whisky to our esteemed customers who appreciate the timeless elegance and uncompromising quality that Seagram V.O. represents. Secure your bottle today and elevate your spirits collection with the classic taste of Seagram V.O., one sip at a time.