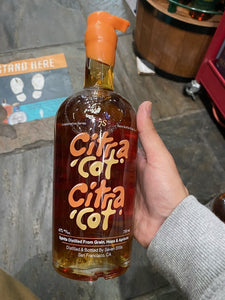 Seven Stills Citracot Whiskey is a bold and unique American whiskey that combines the flavors of two iconic ingredients: citrus and apricot. Crafted by expert distillers, this whiskey is made with locally sourced grains and pure, natural spring water. It is then infused with natural extracts of citrus and apricot, creating a distinctive and refreshing flavor profile that is perfect for sipping or mixing in cocktails.

With its bright citrus notes and subtle hints of apricot, Seven Stills Citracot Whiskey is a refreshing departure from traditional whiskey offerings. It is smooth and easy to drink, with a crisp finish that leaves a lingering, pleasantly sweet aftertaste.

Whether enjoyed neat or mixed into a cocktail, Seven Stills Citracot Whiskey is a versatile and delicious choice for any occasion. It pairs perfectly with other citrus flavors, as well as with rich, savory dishes like barbecue or grilled meats.

With its unique flavor and exceptional quality, Seven Stills Citracot Whiskey is sure to impress even the most discerning of whiskey enthusiasts. Whether enjoyed alone or shared with friends, this whiskey is a true taste sensation that is not to be missed.