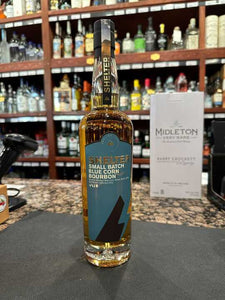 Introducing Shelter Small Batch Blue Corn Bourbon Whiskey – a true masterpiece born from tradition, crafted with innovation, and infused with the soul of the American Southwest. This exceptional bourbon whiskey is the embodiment of our dedication to quality, blending time-honored techniques with the finest blue corn to create a unique and unforgettable spirit.

Shelter Small Batch Blue Corn Bourbon Whiskey pours a rich, amber hue in the glass, hinting at the depth of flavor within.

The aroma is an enticing blend of sweet caramel, vanilla, and roasted nuts, with subtle undertones of cinnamon and oak, reminiscent of a desert breeze on a warm summer evening.

Savor the smooth, full-bodied taste of Shelter Small Batch. The palate reveals a harmonious dance of flavors – the sweet notes of toffee and butterscotch are balanced beautifully by the warmth of toasted oak and the nuttiness of blue corn. Hints of baking spices and a touch of dark chocolate add complexity to every sip.

The finish is long and satisfying, leaving behind a gentle warmth that lingers, inviting you to take another sip.

Shelter Small Batch Blue Corn Bourbon Whiskey is meticulously handcrafted in small batches, ensuring the utmost attention to detail and quality. Our secret lies in our choice of blue corn, a distinct variety known for its rich flavor and deep color. This unique grain provides the foundation for our exceptional bourbon.

After careful mashing, fermentation, and distillation, the spirit is aged in charred American oak barrels, allowing it to mature and develop its signature character. We take pride in our commitment to time-honored craftsmanship, giving our bourbon the patience it deserves to reach its peak of perfection.

Shelter Small Batch Blue Corn Bourbon Whiskey is a versatile spirit that can be enjoyed in various ways. Neat, on the rocks, or as the star of your favorite cocktail, it brings a touch of the Southwest to every sip. Whether shared among friends or savored in solitude, our bourbon invites you to celebrate the finer moments in life.

Experience Shelter Small Batch Blue Corn Bourbon Whiskey, where tradition meets innovation, and the soul of the Southwest is bottled for your enjoyment. Sip, savor, and discover the essence of craftsmanship in every glass.