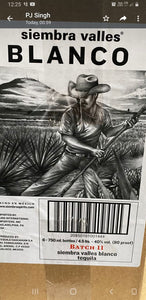 Siembra Valles Blanco Tequila is a premium, small-batch tequila that is carefully crafted using traditional methods and the finest blue agave plants grown in the highlands of Jalisco, Mexico. This tequila is made from 100% pure agave juice, ensuring a smooth and authentic taste that captures the true essence of premium tequila.
With its crystal-clear appearance and fresh, fruity aroma, Siembra Valles Blanco Tequila is a sophisticated and refined spirit that delivers a complex taste experience. On the palate, it is full-bodied and well-balanced, with notes of sweet agave, citrus, and a subtle hint of vanilla. The finish is long and smooth, leaving a refreshing aftertaste that lingers on the palate.
Siembra Valles Blanco Tequila is perfect for sipping on its own, as it showcases the unique flavors and quality of the spirit. It is also a great choice for mixing in classic tequila cocktails such as margaritas, Palomas, or tequila sunrises.
Experience the exceptional taste and quality of Siembra Valles Blanco Tequila, and savor the authentic flavors of Mexico in every sip.