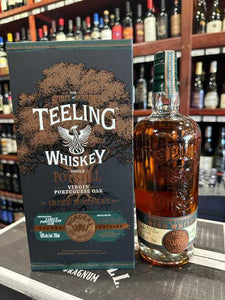 The Teeling Wonders of Wood Second Edition Virgin Portuguese Oak Single Pot Still Irish Whiskey is a testament to Teeling's innovation and exploration of wood influences on whiskey maturation. This limited edition release represents the second edition in the Wonders of Wood series, showcasing the impact of Portuguese oak on single pot still Irish whiskey.

This expression likely offers a unique and captivating experience, accentuated by the influence of virgin Portuguese oak casks. Upon pouring a glass, expect a rich amber hue, an indication of the interaction between the whiskey and the wood during maturation.

The aroma might boast a blend of sweet vanilla, caramel, and subtle spice notes intertwined with the distinctive characteristics imparted by Portuguese oak. Anticipate a palate that delivers a complex fusion of flavors—creamy toffee, dried fruits, hints of tropical sweetness, and a touch of oak-driven spices, all harmoniously balanced.

Teeling's exploration of different wood influences in their whiskey-making process showcases their dedication to innovation and craftsmanship, creating unique expressions that intrigue whiskey enthusiasts.

For those fortunate enough to acquire a bottle of the Teeling Wonders of Wood Second Edition, savoring it neat or with a splash of water can help unlock the layers of complexity and appreciate the marriage between the Irish whiskey and the influence of virgin Portuguese oak. It's a celebration of innovation in whiskey maturation and the artistry behind Teeling's exceptional releases. Cheers to the exploration of wood and the distinctive flavors of Teeling's Wonders of Wood Second Edition!