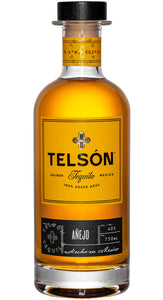 Telson Anejo Tequila is a premium tequila that has been carefully crafted using traditional methods to deliver a rich and complex flavor. Made from 100% blue weber agave grown in the highlands of Jalisco, Mexico, this tequila is aged for at least 12 months in oak barrels.
The result is a deep golden-colored tequila with a rich and complex aroma that has notes of caramel, vanilla, and toasted oak. On the palate, Telson Anejo Tequila is smooth and velvety, with a perfect balance of sweetness and spice. The tequila has a full-bodied flavor, with notes of caramel, vanilla, and roasted nuts, which are complemented by subtle hints of black pepper and cinnamon.
Telson Anejo Tequila is best enjoyed neat or on the rocks, to fully appreciate its rich and complex flavors. It can also be used as a base for premium cocktails, such as a Margarita or a Tequila Sunrise. This tequila is a sophisticated and luxurious spirit that is perfect for sipping or for special occasions.