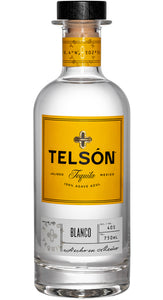 Telson Blanco Tequila is a premium tequila that has been carefully crafted using traditional methods to deliver a clean and crisp flavor. Made from 100% blue weber agave grown in the highlands of Jalisco, Mexico, this tequila is bottled immediately after distillation, without any aging.
The result is a crystal-clear tequila with a fresh and lively aroma that has notes of citrus, agave, and white pepper. On the palate, Telson Blanco Tequila is smooth and refreshing, with a perfect balance of sweetness and acidity. The tequila has a light-bodied flavor, with notes of citrus and agave, which are complemented by subtle hints of black pepper.
Telson Blanco Tequila is best enjoyed in cocktails, such as a Margarita or a Paloma, where its clean and crisp flavors can shine. It can also be enjoyed neat or on the rocks, for those who prefer a lighter tequila experience. This tequila is a high-quality and versatile spirit that is perfect for mixing or for sipping.