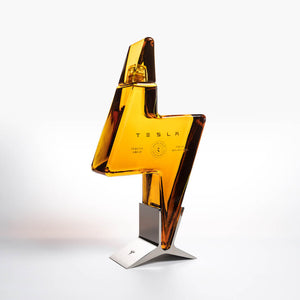 Introducing Tesla Tequila, a premium spirit crafted to deliver a unique and luxurious drinking experience. Inspired by the innovative and forward-thinking spirit of Tesla, this exceptional tequila showcases the brand's commitment to excellence, style, and sustainability.
Tesla Tequila is meticulously handcrafted using the finest agave plants grown in the rich soils of Jalisco, Mexico, renowned for producing the world's finest tequilas. Each bottle is carefully distilled and aged to perfection, ensuring a smooth and refined taste that is truly unparalleled.
The distinctive bottle design reflects Tesla's sleek and futuristic aesthetic, featuring a lightning bolt-shaped glass bottle with a hand-blown glass stopper. This iconic presentation serves as a testament to the brand's dedication to craftsmanship and attention to detail.
With every sip of Tesla Tequila, you'll experience a harmonious blend of flavors, showcasing the natural sweetness of the agave plant with hints of caramel and oak. Its smooth and velvety texture dances on the palate, leaving a lasting impression that lingers with a satisfying finish.
Tesla Tequila is not just about exceptional taste—it embodies the brand's commitment to sustainability. The production process adheres to environmentally conscious practices, utilizing renewable energy sources and promoting responsible farming techniques. By choosing Tesla Tequila, you're not only indulging in a superior tequila but also supporting a brand that strives to make a positive impact on the world.
Whether enjoyed neat, on the rocks, or in your favorite cocktail, Tesla Tequila promises an extraordinary drinking experience that embodies elegance, innovation, and a taste that will captivate the most discerning tequila enthusiasts. Elevate your spirits collection and celebrate the spirit of Tesla with this exceptional tequila.