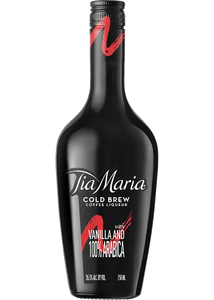 Step into a world where coffee meets liqueur, where the essence of beans and the warmth of spirits come together to create a captivating elixir – Tia Maria Coffee Liqueur. Exclusive to Folsom Wine & Spirits, this exquisite blend of premium Jamaican coffee and fine spirits beckons you to embark on a journey through rich flavors, traditions, and a touch of Caribbean mystique.

Tia Maria's story is one of enchantment, rooted in Jamaica's Blue Mountains, where some of the world's finest coffee beans are grown. As you pour a glass of Tia Maria Coffee Liqueur, you're not just enjoying a drink; you're sipping the allure of an exotic island, captured in every drop.

The liqueur's deep mahogany hue is a prelude to the sensory adventure that awaits. The aroma is a symphony of freshly roasted coffee beans, harmoniously blended with a medley of rich vanilla, caramel, and a whisper of chocolate. It's a fragrance that instantly transports you to a tranquil Caribbean café, where time slows down, and every sip is a moment to savor.

On the palate, Tia Maria Coffee Liqueur unveils its richness and complexity with grace. The first sip welcomes you to a world of bold coffee flavors, met with the sweetness of Jamaican rum and a hint of smooth vanilla. The luscious caramel notes and subtle chocolate undertones create a taste that's nothing short of indulgent.

What truly sets Tia Maria apart is its extraordinary versatility. It's more than just a coffee liqueur; it's an elixir that transcends boundaries. Whether enjoyed neat, in your favorite cocktail, or as the secret ingredient in culinary creations, this liqueur offers a world of possibilities. It's the perfect companion for celebrations, after-dinner conversations, or adding a dash of intrigue to your espresso.

Tia Maria Coffee Liqueur is more than just a spirit; it's an invitation to embrace the mysteries of the Caribbean. It's ideal for savoring life's moments with friends, family, or simply by yourself as you bask in the warmth of an island sunset. Whether you're toasting to the beauty of life, stirring up creative concoctions, or simply unwinding after a long day, Tia Maria is the embodiment of elegance and allure.

At Folsom Wine & Spirits, we're thrilled to offer you this exceptional liqueur, representing the very essence of Caribbean mystique and coffee craftsmanship. Elevate your collection with Tia Maria Coffee Liqueur and let the exotic and indulgent flavors enhance your most cherished moments. Order now and embark on a journey through the Caribbean's mystique with every sip. Here's to the enchantment of Tia Maria!