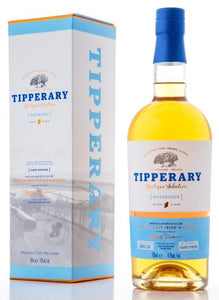 Introducing Tipperary Watershed Single Malt Irish Whiskey, a true embodiment of Ireland's pristine natural beauty and centuries-old whiskey-making heritage. This exceptional spirit is a testament to the dedication and passion of Tipperary Distillery in crafting an unforgettable whiskey experience.
In each bottle of Tipperary Watershed Single Malt Irish Whiskey, you'll discover a golden elixir that reflects the lush landscapes and pure water sources of the Tipperary region. The carefully selected malted barley is distilled with meticulous care in traditional copper pot stills, preserving the essence of the local terroir.
As you raise the glass to your lips, you'll be greeted with an inviting aroma that combines sweet, malty notes with gentle hints of orchard fruits and a touch of vanilla. The palate is a delightful dance of flavors, where the creamy texture meets a perfect harmony of honey, ripe apples, and subtle spice, leaving a satisfying and lingering impression.
The finish is exquisitely smooth, with a subtle warmth that caresses the senses, inviting you to savor every moment. Tipperary Watershed Single Malt Irish Whiskey is best enjoyed neat or with a splash of pure spring water, allowing you to fully appreciate the complexities and nuances that define this outstanding expression.
From the rolling green hills to the crystal-clear waters that flow through the region, each drop of Tipperary Watershed Single Malt Irish Whiskey captures the essence of its origin, delivering a journey of taste that will leave a lasting impression on whiskey enthusiasts worldwide. Embrace the spirit of Ireland with this exceptional release, and let Tipperary's legacy of craftsmanship and tradition transport you to the heart of Irish whiskey-making excellence.