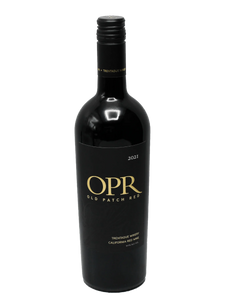 Trentadue Old Patch Red is a rich and flavorful wine that is sure to impress any red wine enthusiast. This wine is a blend of several grape varieties, including Zinfandel, Petite Sirah, Carignane, and Syrah, all grown in the Alexander Valley of California.
With its deep, dark color and complex aromas of blackberry, plum, and black cherry, Trentadue Old Patch Red is a wine that immediately captures your attention. On the palate, it is full-bodied and rich, with bold flavors of dark fruit, cocoa, and a hint of spice. The wine is well-structured, with firm tannins that provide a satisfying balance to the fruit.
This wine is an excellent choice for pairing with grilled meats, stews, and other hearty dishes. Its bold flavors and complexity make it a standout wine that is perfect for special occasions or for sharing with friends.
The label of Trentadue Old Patch Red is also noteworthy, featuring a patchwork quilt design that pays homage to the winery's farming heritage. This unique label adds a touch of charm and character to the overall experience of the wine.
Overall, Trentadue Old Patch Red is a wine that is sure to impress with its bold and complex flavors, elegant structure, and unique presentation. It is a must-try for any wine lover looking for a high-quality, full-bodied red that is both luxurious and accessible.