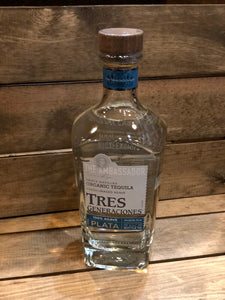 Tres Generaciones Blanco Tequila is a premium and meticulously crafted expression that captures the true essence of traditional tequila-making. Made by the esteemed tequila producer Casa Cuervo, this blanco tequila embodies the expertise and dedication of three generations of tequila mastery.
Crafted from 100% blue Weber agave, Tres Generaciones Blanco Tequila begins with the careful selection and harvesting of mature agave plants. The piñas, or hearts of the agave, are skillfully extracted and slowly cooked in traditional brick ovens, allowing the sweet flavors to develop.
After the agave is cooked, it is crushed and the juice is extracted. This juice is then fermented using natural yeast, a process that preserves the tequila's authentic flavors. The resulting spirit is double-distilled to perfection, ensuring the highest quality and purity.
Tres Generaciones Blanco Tequila showcases the vibrant and pure essence of the agave plant. It boasts a crystal-clear appearance that reflects its pristine nature. On the nose, you'll experience fresh and enticing aromas of agave, accompanied by subtle floral and citrus notes.
The taste profile of Tres Generaciones Blanco Tequila is vibrant and lively, with the agave taking center stage. Crisp and clean, it offers flavors of sweet agave, hints of herbal undertones, and a touch of black pepper, providing a well-rounded and satisfying taste experience.
This tequila is meant to be enjoyed in its purest form, whether sipped neat or used as the foundation for classic tequila cocktails. Its smooth and velvety texture allows the flavors to shine through, leaving a refreshing and lingering finish.
Tres Generaciones Blanco Tequila is the embodiment of tradition and craftsmanship, capturing the essence of Mexico's tequila heritage. It represents the culmination of three generations of expertise, resulting in a premium blanco tequila that delivers a true and authentic tequila experience.