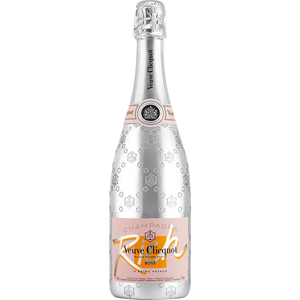 Veuve Clicquot Rich Rose Champagne is a luxurious and indulgent champagne that is perfect for those special occasions or moments of celebration. This elegant champagne is made using the traditional method of Champagne, with a blend of Pinot Noir, Chardonnay, and Meunier grapes, carefully selected from the finest vineyards of the Champagne region in France.
With its beautiful pink hue and fine bubbles, Veuve Clicquot Rich Rose Champagne offers a delicate and refreshing aroma of red fruits, such as strawberry and raspberry, with hints of citrus and floral notes. On the palate, it is rich and complex, with a perfect balance between sweetness and acidity, offering flavors of ripe red fruits, vanilla, and spices.
Veuve Clicquot Rich Rose Champagne is designed to be served over ice and mixed with fresh ingredients such as cucumber, grapefruit, or pineapple, creating a unique and personalized cocktail experience. Its versatility makes it the perfect champagne to enjoy at any time of the day, from brunch to sunset, and is a delightful addition to any social gathering.
With its iconic label and luxurious presentation, Veuve Clicquot Rich Rose Champagne is an excellent choice for gifting or for treating yourself to a special and memorable moment of indulgence.