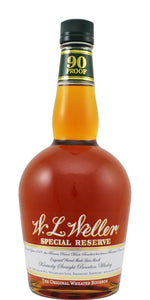 Introducing W. L. Weller Special Reserve Bourbon Whiskey with the timeless old label, now available in a generous 1.75-liter bottle. This classic bourbon pays homage to the original recipe of William Larue Weller, a pioneer in wheated bourbon distillation. With its smooth and approachable character, this special reserve is a tribute to tradition and a delightful addition to any whiskey collection.

Crafted using the same time-honored recipe that has delighted whiskey enthusiasts for generations, W. L. Weller Special Reserve is a testament to the enduring appeal of a well-crafted bourbon. The signature wheated mash bill creates a harmonious balance of sweet caramel, creamy vanilla, and gentle spice, delivering a palate that's both approachable and sophisticated.

The old label on this 1.75-liter bottle is a nod to the legacy of W. L. Weller himself. It recalls a time when quality and craftsmanship were the guiding principles in the world of bourbon, and this spirit continues to uphold those values with each sip.

Whether savored neat, on the rocks, or as the foundation of a classic cocktail, W. L. Weller Special Reserve Bourbon Whiskey is a versatile choice that's sure to impress both connoisseurs and newcomers to the world of whiskey alike.

Presented in an impressive 1.75-liter bottle, this special reserve offering is ideal for sharing with friends and loved ones on special occasions or for elevating your home bar setup.

Rediscover the essence of bourbon as it once was, with the W. L. Weller Special Reserve Bourbon Whiskey Old Label 1.75Lt. Embrace the heritage, savor the flavor, and make your own mark in the tradition of enjoying exceptional whiskey.