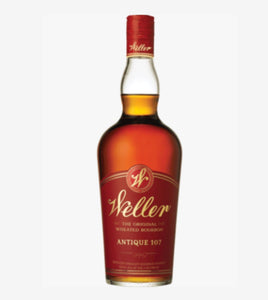 Introducing W. L. Weller Antique 107 Kentucky Straight Bourbon Whiskey - a timeless expression of heritage, quality, and the art of bourbon-making. This remarkable bourbon pays homage to the legacy of William Larue Weller, a pioneer who shaped the course of whiskey history.

With a deep and inviting amber hue, W. L. Weller Antique 107 sets the stage for a sensory journey. The nose is a delightful blend of caramelized sugar, vanilla, and toasted oak, evoking memories of a cozy fireside evening.

The palate is a harmonious dance of flavors, where the richness of toffee and butterscotch mingles with notes of cherries and dark fruits. A subtle hint of spice adds complexity, enhancing the overall experience and inviting you to explore its depth.

At 107 proof, this bourbon delivers a bold and robust profile that's both assertive and inviting. The finish is a warm and satisfying embrace, leaving a lingering sweetness and a touch of oak on the palate. This is a bourbon meant to be savored, enjoyed in the company of friends, and appreciated for its enduring quality.

Presented in a classic bottle that reflects the brand's commitment to tradition, W. L. Weller Antique 107 Kentucky Straight Bourbon Whiskey is a treasure for connoisseurs and enthusiasts alike. Whether enjoyed neat, on the rocks, or as the centerpiece of your favorite bourbon cocktails, it's a testament to the time-honored craftsmanship that defines the Weller legacy.

Elevate your bourbon experience with W. L. Weller Antique 107, where history, flavor, and craftsmanship converge to create a truly exceptional spirit that stands the test of time.