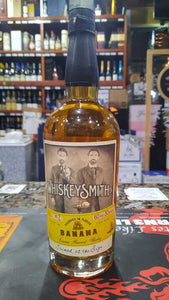 Introducing Whiskeysmith Co. Banana Flavored Whiskey – A Tropical Whiskey Delight!

Get ready for a taste of the tropics in every sip with Whiskeysmith Co.'s Banana Flavored Whiskey. We've expertly blended the timeless essence of whiskey with the luscious, sweet flavors of ripe bananas, creating a whiskey experience like no other.

Experience the rich and robust character of whiskey intertwining seamlessly with the indulgent sweetness of bananas. The initial sip introduces you to the warm embrace of our premium whiskey, followed by a wave of velvety banana goodness. This unique fusion offers a delightful balance between the whiskey's depth and the tropical allure of bananas.

At Whiskeysmith Co., we uphold the finest traditions of whiskey craftsmanship. We start with carefully selected grains and pristine water to ensure a solid whiskey foundation. Our master distillers skillfully infuse the whiskey with the essence of ripe bananas, resulting in a naturally smooth and authentic blend that respects whiskey's heritage.

Whiskeysmith Co. Banana Flavored Whiskey is incredibly versatile. Sip it neat to savor its full complexity or use it as the star ingredient in creative cocktails. From classic banana-infused Old Fashioneds to tropical libations that transport you to a beach paradise, this whiskey promises endless mixology possibilities.

Whether it's a unique gift for a whiskey connoisseur or a delightful treat for yourself, our Banana Flavored Whiskey comes in elegant packaging and offers a distinctive flavor profile that's sure to impress.

Whiskeysmith Co. Banana Flavored Whiskey is not just a drink; it's a passport to fun-filled moments and unforgettable gatherings. Raise your glass to celebrate life's joys, surrounded by the enchanting taste of whiskey with a tropical twist.

Indulge in a whiskey experience that's as exotic as it is exceptional. Order your bottle of Whiskeysmith Co. Banana Flavored Whiskey today, and embark on a journey to tropical whiskey paradise. Cheers to a whiskey adventure with a taste of the tropics!