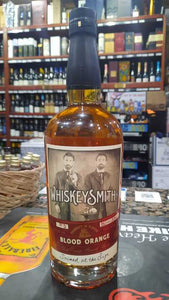 Introducing Whiskeysmith Co. Blood Orange Flavored Whiskey – Where Tradition Meets Zest!

Elevate your whiskey experience with a twist of citrusy brilliance! Our Blood Orange Flavored Whiskey combines the rich, time-honored craftsmanship of whiskey-making with the vibrant, tangy essence of ripe blood oranges. Crafted with meticulous care and a dash of innovation, this exceptional spirit promises to captivate your senses and redefine your whiskey appreciation.

Unleash your taste buds on a journey through layers of flavor complexity. The first sip delights with the warmth and character of premium whiskey, smoothly coating your palate. As the velvety whiskey unfolds, a burst of zesty blood orange sweeps in, infusing each sip with a harmonious blend of sweet and tangy notes. This balanced infusion imparts a citrusy brightness that perfectly complements the whiskey's deep, oaky undertones.

At Whiskeysmith Co., we pride ourselves on our dedication to traditional whiskey-making techniques. We start with carefully selected grains and the purest water, ensuring the foundation of our whiskey is nothing short of exceptional. Our master distillers skillfully blend the whiskey with the essence of sun-kissed blood oranges, allowing for a natural and authentic infusion that respects the whiskey's heritage.

Whiskeysmith Co. Blood Orange Flavored Whiskey is as versatile as it is flavorful. Savor it neat to experience the full depth of its character, or use it to craft extraordinary cocktails that will amaze your friends and elevate your mixology game. From classic Old Fashioneds with a citrusy twist to innovative concoctions, the possibilities are endless.

Whether you're looking for a memorable gift for a whiskey enthusiast or simply indulging in a well-deserved treat, our Blood Orange Flavored Whiskey makes for a remarkable choice. Its elegant packaging and unique flavor profile will leave a lasting impression on anyone lucky enough to receive it.

Whiskeysmith Co. Blood Orange Flavored Whiskey is more than just a drink; it's an invitation to celebrate life's moments, both big and small. Raise your glass to unforgettable gatherings, cherished toasts, and the joy of savoring exceptional whiskey with those who matter most.

Elevate your whiskey experience with Whiskeysmith Co. Blood Orange Flavored Whiskey – where the rich heritage of whiskey meets the vibrant zest of blood oranges. Order your bottle today and embark on a citrus-infused whiskey adventure that's truly one of a kind. Cheers to tradition with a twist!