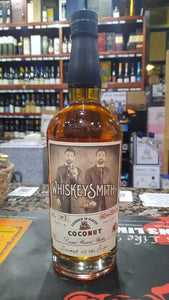 Introducing Whiskeysmith Coconut Flavored Whiskey – A Taste of the Tropics in Every Sip!
Get ready to embark on a tropical whiskey journey like no other with Whiskeysmith Co.'s Coconut Flavored Whiskey. We've taken the craftsmanship of traditional whiskey and blended it harmoniously with the exotic allure of coconut, creating a spirit that transports you to sun-kissed shores and swaying palm trees.
Indulge in the smooth, rich character of whiskey complemented by the sweet, tropical notes of coconut. With your first sip, you'll be greeted by the warmth and complexity of our premium whiskey, followed by a wave of creamy coconut goodness. This unique fusion creates a symphony of flavors that balances the whiskey's depth with the paradise-inspired sweetness of coconut.
At Whiskeysmith, we're committed to the time-honored traditions of whiskey-making. We begin with carefully selected grains and pristine water, ensuring the foundation of our whiskey is of the highest quality. Our master distillers expertly infuse the whiskey with the essence of coconut, resulting in a naturally smooth and authentic blend that pays homage to the legacy of whiskey.
Whiskeysmith Coconut Flavored Whiskey is incredibly versatile. Sip it neat to experience its full complexity, or let your creativity run wild by using it to craft tropical-inspired cocktails. From classic coconut-infused Old Fashioneds to innovative concoctions that transport you to an island paradise, the possibilities are endless.
Whether you're searching for a unique gift for a whiskey enthusiast or looking to treat yourself to a taste of the tropics, our Coconut Flavored Whiskey comes in elegant packaging and offers a distinctive flavor profile that's sure to impress.
 Whiskeysmith Coconut Flavored Whiskey isn't just a drink; it's an invitation to celebrate life's moments with a touch of tropical paradise. Raise your glass to unforgettable gatherings, cherished toasts, and the joy of savoring exceptional whiskey with a delightful coconut twist.
Immerse yourself in a whiskey experience that transports you to an island getaway. Order your bottle of Whiskeysmith Coconut Flavored Whiskey today and embark on a journey to tropical whiskey bliss. Cheers to the taste of the tropics!