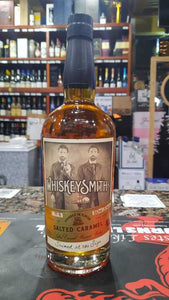 Introducing Whiskeysmith Co. Salted Caramel Flavored Whiskey – Where Smooth Meets Sweet, and Tradition Meets Indulgence!

Prepare your taste buds for a symphony of flavors with Whiskeysmith Co.'s Salted Caramel Flavored Whiskey. We've taken the time-honored art of whiskey-making and infused it with the delectable allure of salted caramel, creating an exquisite blend that embodies both craftsmanship and indulgence.

Experience the perfect harmony of silky-smooth whiskey interwoven with the luscious sweetness of salted caramel. With your first sip, you'll be greeted by the warm, inviting embrace of our premium whiskey, followed by a decadent wave of rich caramel notes. This unique fusion dances on your palate, striking an impeccable balance between the whiskey's depth and the indulgence of salted caramel.

At Whiskeysmith Co., we adhere to the time-honored traditions of whiskey-making. We start with meticulously chosen grains and the purest water, ensuring the foundation of our whiskey is nothing short of extraordinary. Our master distillers then artfully infuse the whiskey with the essence of salted caramel, resulting in a naturally smooth and authentic blend that pays homage to whiskey's heritage.

Whiskeysmith Co. Salted Caramel Flavored Whiskey is a versatile delight. Sip it neat to appreciate its full complexity, or let your creativity shine by incorporating it into imaginative cocktails. From classic caramel-infused Old Fashioneds to inventive libations that ignite your taste buds, this whiskey promises endless mixology possibilities.

Whether you're seeking a unique present for a whiskey enthusiast or a delightful indulgence for yourself, our Salted Caramel Flavored Whiskey comes in elegant packaging and offers a distinctive flavor profile that's sure to leave a lasting impression.

🥂 Cheers to Moments of Sweetness:
Whiskeysmith Co. Salted Caramel Flavored Whiskey isn't just a drink; it's an invitation to celebrate life's moments, both big and small. Raise your glass to memorable gatherings, cherished toasts, and the joy of savoring exceptional whiskey with a sweet, caramel twist.

Indulge in a whiskey experience that marries tradition with pure indulgence. Order your bottle of Whiskeysmith Co. Salted Caramel Flavored Whiskey today and embark on a journey where smooth whiskey meets sweet delight. Cheers to a world of flavor and indulgence!