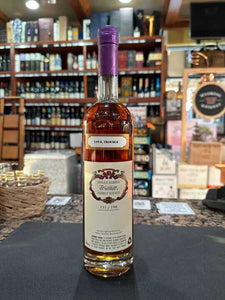 Introducing Willett 7 Year Old Family Estate Single Barrel Straight Bourbon Whiskey – a true masterpiece of craftsmanship and a testament to the Willett family's dedication to producing exceptional bourbon for generations. This exquisite bourbon offers a journey through time, skillfully aged for seven years to reach its peak of flavor and complexity.

A rich, deep amber hue invites you to explore the depths of this bourbon's character.
The aroma is a harmonious blend of sweet caramel, toasted oak, and hints of vanilla. Layers of butterscotch and dried fruits entice your senses, promising a rewarding tasting experience.

As you take your first sip, the velvety texture coats your palate with flavors of warm toffee, caramelized sugar, and the unmistakable influence of charred oak. There's a delightful interplay of spices, including cinnamon and a touch of nutmeg, dancing alongside notes of dark chocolate and dried apricots.

The finish is long and satisfying, leaving you with a gentle warmth and lingering traces of toasted oak and caramel sweetness, enticing you to savor every moment.

This Family Estate Single Barrel Bourbon is a testament to Willett's time-honored traditions. Each barrel is carefully hand-selected by the Willett family, ensuring that only the finest bourbon makes it into the bottle. Aged in new, charred American oak barrels, this bourbon draws its character from the pristine Kentucky limestone water, the region's unique climate, and the artistry of the Willett distillers.

For over eight decades, the Willett family has been crafting exceptional bourbons, making this 7 Year Old Family Estate Single Barrel a true heirloom of American whiskey tradition. Whether you're a bourbon connoisseur or an adventurous spirit looking to explore the world of fine whiskey, this bourbon is a remarkable addition to any collection.

Indulge in the legacy, craftsmanship, and unparalleled flavor of Willett 7 Year Old Family Estate Single Barrel Straight Bourbon Whiskey – a bourbon that celebrates the past while setting the standard for the future of American whiskey.