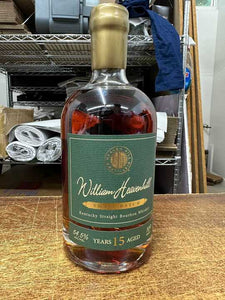 Indulge in the extraordinary world of bourbon with William Heavenhill Small Batch Bottled in Bond 15 Year Old Straight Bourbon Whiskey. This exceptional spirit is a testament to the time-honored craft of the Heaven Hill Distillery, one of the most revered names in the world of bourbon. Crafted with precision and patience, this whiskey is a reflection of the dedication and expertise that goes into every bottle. Whether you're a seasoned bourbon enthusiast or just embarking on a journey into the world of fine spirits, William Heavenhill is an invitation to explore the profound depths of bourbon excellence.

This bourbon begins its journey in the heart of Kentucky, where the finest grains and pure limestone-filtered water are selected to create a rich and complex flavor profile. The meticulous attention to detail is a hallmark of the Heaven Hill Distillery, and it's evident in the carefully chosen barrels used to age this spirit. The result is a 15-year-old bourbon that is a testament to the distillery's unwavering commitment to quality.

The rich amber color of William Heavenhill is a visual delight, hinting at the depth of flavors held within. The aroma is a captivating blend of caramel, toasted oak, and a touch of vanilla, promising a tasting experience that's as inviting as it is complex.

On the palate, this bourbon unveils a beautifully balanced profile. The taste is velvety and sophisticated, with notes of sweet toffee, dark chocolate, and warm spices. Hints of dried fruit and a rich, oaky finish add depth and character to every sip. It's a bourbon that encourages you to savor each nuance, appreciating the craftsmanship that goes into every bottle.

The finish is gratifyingly long and warming, leaving you with the memory of a well-crafted bourbon that's meant to be savored. William Heavenhill Small Batch Bottled in Bond 15 Year Old Straight Bourbon Whiskey is more than just a spirit; it's a tribute to the art of distillation, a symbol of quality, and a toast to the enduring legacy of bourbon production. At Folsom Wine & Spirits, we are honored to offer this exceptional bourbon to our esteemed customers who appreciate the craftsmanship and dedication that go into every bottle. Secure your bottle today and elevate your spirits collection with the rich heritage and excellence of William Heavenhill, one sip at a time.