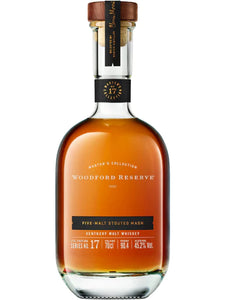 In the 1830's our Woodford County distillery was the setting for a series of discoveries and innovative practices that today define the bourbon industry. For this 2021 Master's Collection release Master Distiller Chris Morris and Assistant Master Distiller, Elizabeth McCall have drawn upon that rich history and their own interests for inspiration.
In Kentucky, a fermented grain mash is traditionally called "distiller's beer". Distillation converts this "beer" into a spirit that will become a "Whiskey" once barreled.
This Master's Collection is our take on crafting a spirit that exhibits the flavors of a classic beer style, in this case a rich, roasted malty stout.
"Our distillery building was constructed by Irish stonemasons in 1838. That, plus the fact that we distill in the "Irish" style with triple pot stills inspired us to mash and distill an Irish style stout beer." – Elizabeth McCall
The result is the Fall 2021 Master's Collection release named Five-Malt Stouted Mash, a rich and darkly robust expression of Woodford Reserve Kentucky Straight Malt Whiskey.