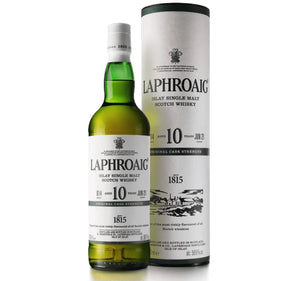 Laphroaig's 10 Year Old Cask Strength whisky provides an authentic and genuine experience of tasting whisky at its source. This exceptional whisky is matured in charred seasoned oak barrels that add a delicate vanilla nuttiness to its flavor and texture.
Barrier-filtered to eliminate small char particles, Laphroaig 10 Year Old Cask Strength whisky remains minimally processed, allowing you to enjoy it exactly as it was crafted with minimal intervention. In extreme temperatures or when water is added, it may appear slightly cloudy, which is a natural characteristic of a peated whisky of uncompromising purity.
Adding a splash of water to this whisky releases a rich aroma of peat smoke, with sweet and briny notes that evoke the sea. Bold, full-bodied, and unforgettable, Laphroaig 10 Year Old Cask Strength is hailed by the distillery as the purists' choice.