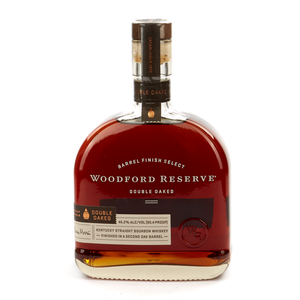 Introducing Woodford Reserve Double Oaked Kentucky Straight Bourbon Whiskey, an exquisite expression of craftsmanship and innovation. This 750ml bottle houses a remarkable bourbon that has been meticulously aged and finished using a unique double oaking process, setting it apart from the rest.
The rich amber hue hints at the whiskey's maturity, while the nose entices with inviting aromas of toasted oak, vanilla, and a delicate sweetness. This enticing scent promises a taste experience beyond compare.
Upon the first sip, the palate is enveloped in a symphony of flavors. The carefully crafted double oaking process imparts deep layers of toasted wood, caramel, and dark chocolate, harmonizing with hints of dried fruit and spices, all contributing to a luxuriously smooth and velvety mouthfeel.
The finish is long and satisfying, leaving behind the lingering sweetness of caramel and a gentle touch of spice. Each sip of Woodford Reserve Double Oaked Kentucky Straight Bourbon Whiskey is a journey into the world of rich bourbon heritage, a testament to the dedication of Woodford Reserve's Master Distillers.
Enjoy this exceptional bourbon neat, on the rocks, or as the star ingredient in your favorite whiskey cocktails. Elevate your whiskey experience with Woodford Reserve Double Oaked, a true masterpiece that exemplifies the art of bourbon-making. Cheers to the finest in American whiskey craftsmanship!